Craig Smith Music
Craig Smith: Biography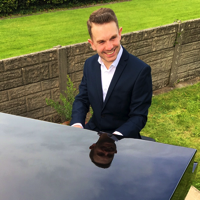 About Craig
Craig is an experienced and multi-skilled professional musician based in Preston, Lancashire. His primary instruments are piano and keyboards (synths, workstations, Hammond organ etc). He also plays rhythm guitar, Latin percussion and bass, and sings backing vocals.
Working freelance in many musical disciplines, Craig is available as a live musician; a studio recording session musician; a theatre and film composer/arranger; and a live touring band and theatre musical director. He has toured extensively thorughout the UK and much of Europe.
In recent years, Craig has become firmly established as one of - if not the - most sought-after event and wedding pianists in the UK. For the next 12 months alone, he has been booked to provide over 180 wedding packages! He is available as a soloist, but also has a number of other musicians he teams up with on vocals, sax and strings, dependent on the needs of the client.
Craig is 35, a proud dad to three boys, and enjoys nothing more than getting creative in the kitchen (preferably with a cold beer in his hand): "when music is your life, you need something else to help you unwind!"
Please read more about his career to date and projects past and present below:
Early Years
Craig was born in Preston in 1986 and took up keyboard and piano lessons aged eleven at the local branch of the Technics Music Academy (TMA) at A&C Hamilton Musical Instruments. He sped to grade 5 piano and music theory within three years and was a winner two years running in the Technics Music Festival, where he discovered sequencing and programming. He played his first professional wedding booking during his final year at Archbishop Temple High School.
Craig studied Music Technology at Preston College, where he was introduced to musical direction. At this time, and by now playing beyond grade 8 standard, Craig was offered a job teaching piano lessons and keyboard lessons Hamilton's and took his first residency at a high-class city centre restaurant, quickly establishing himself as a professional musician alongside his studies.
Top Class Training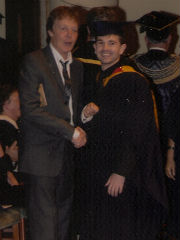 It was musical direction that in 2004 won Craig a place at The Liverpool Institute for Performing Arts (LIPA), one of the world's premier performing arts institutions, co-founded by Sir Paul McCartney (from whom Craig received his degree three years later).
During his first year as a musical director on LIPA's Performing Arts Music degree, Craig developed a passion for both popular music performance and production, and discovered his potential as a composer/arranger.
He transferred to LIPA's Music degree for his final two years, during which he worked with several acts and bands as musical director or performing on piano, keyboards and percussion; he was commissioned as a composer scoring a musical to celebrate Liverpool's 8th Centenary; and produced records for various singers and bands, with some of this work now available world-wide.
Whilst at LIPA, Craig met many of the top class session musicians he now employs on various projects.
Life as a Full-Time Pro
After graduating from LIPA, Craig received an associateship to the Victoria College of Music and he forged a successful career as an instrumental tutor, building the North West's largest mobile music academy.
Alongside the music school, Craig developed a fantastic reputation as a full-time professional musician, eventually relinquishing control of the academy, and the majority of his work is now in live performance and musical direction. He is currently working as arranger and band leader on Contempo Productions Ltd's The Vintage Boys Rock 'n' Roll Show UK Tour among other projects.
Craig is available for composition and arranging commissions (right: an example of his work on the moving documentary Justice for Matthew) - working with local, national and international production companies - and has made various media appearances, either performing or discussing the music and wedding industries.
He has worked alongside a wide variety of artists, including Paloma Faith, Pixie Lott, Andy Abrahams, Tinchy Stryder, Bastille, Guillemots, Spin Doctors, The Noisettes and more. Craig's most notable studio recording session saw him recording keyboard parts for Bryan Adams.
Craig continues to play at private functions as a wedding pianist and at parties across the North West.