Craig Smith Music
Craig Smith Music:

Composition, Arranging & Musical Direction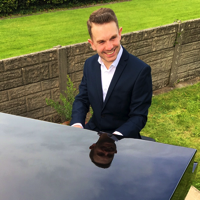 Craig's Musical Background
With a first class degree in music from the acclaimed Liverpool Institute for Performing Arts (co-founded by Sir Paul McCartney, from whom received his degree) and various high-profile gigs to date, Craig has amassed a large amount of experience in music creation. He has compiled an extremely talented contact list of session musicians on whom he calls for theatre productions and when recording compositions and arrangements, ensuring the finished product is always of the highest standard.
To read more about Craig and his projects past and present, please see his biography.
Composition / Arranging
Craig is available for commission as a composer / arranger. He has composed in many styles and for various ensembles of a range of sizes, and counts among his composition and arranging tutors Paul Mitchell-Davidson (credits among others include arranging the European tour of a Sondheim score, which had to be approved by the great man himself!) and Gary Carpenter (The Wicker Man, A Hitchiker's Guide to the Galaxy), from both of whom Craig learned a great deal.
A large amount of Craig's composition and arranging work has come in musical theatre, either on new works or in downsizing scores for large orchestras to small bands for tours. He specialises in composition for special events, such as weddings, graduations, big anniversaries etc, and has worked on film and television music.
For a quote, please contact Craig with as much detail about the project as possible in order to gain an accurate estimate.
Musical Direction
Craig is a seasoned musical director with a multitude of shows under his belt, across the range of professional, amateur and educational productions in theatres across the country. A large portion of his degree assessment at the acclaimed Liverpool Institute for Performing Arts was for his musical directing.
To demonstrate his versatility, a very short list of musical shows on which Craig has worked includes, amongst many others:
A Complete and Utter History of Liverpool 1207-2007 (Abridged) Original (score also composed by Craig)
American Clock Miller
Fame Fernandez, Margoshes & Levy
Les Misérables Schönberg, Boublil & Natel
Lucky Stiff Ahrens & Flaherty
Sweet Charity Coleman, Fields & Simon
Musical entertainment products for theatres include:
The Vingage Boys Rock 'n' Roll Show - Musical Director
The Opera Boys - Musical Director
Simply70s: Ultimate Classic Rock - Musical Supervisor & Producer
The Gary Barlow Live Tribute Show - Musical Director & Producer
It is regrettable that Craig's services are usually unsuitable for amateur companies, although all enquiries are welcomed and considered, especially on new original works.
Craig is also available as a theatre pit musician playing piano, synthesisers, Hammond, keyboards and percussion. All work, be it professional or with amateur companies, is considered.