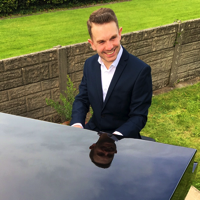 Thank you for deciding to pay for your Craig Smith Music service online. All online payments are secure: you will be redirected to Paypal's 'https' site, which will allow you to pay using your existing Paypal account if you have one (preferred) or simply by using your credit or debit card.
Invoice Payment- one-off payments and contributions to performance, composition and other invoices
Please input your invoice number (or client name if you don't have the invoice number to hand) and click "Pay Now". In the next window, simply enter the amount that you wish to pay towards the invoice in the "Item price" box and click "Update", and you will be ready to make your payment.
Please note, a small surcharge of £2 per transaction will be added as "postage and packaging", contributing to the costs of providing a card payment facility through Paypal.
Tuition Clients - automated billing
To sign up to automated billing, please choose the "Automated Billing" button. This will allow Craig Smith Music to automatically debit your Paypal account, or a debit / credit card nominated by you for the monthly amount shown on your monthly payment invoice. You do not need a Paypal account to use this feature. We will bill your account during the first week of each month, meaning you don't need to worry about remembering to pay on time, or logging onto your online banking to send a BACS payment etc. You can set the maximum amount that can be debited from your account; this should be the monthly amount shown on your invoice.